Episode 503 Spoilers: Chuck vs. the Frosted Tips; 11/11/2011
10/21/11:
CARRIE-ANNE MOSS ("THE MATRIX") GUEST STARS AS 'GERTRUDE VERBANSKI'-JEFF FAHEY AND JUSTIN HARTLEY ALSO GUEST STAR-As the team takes on a missing persons case, Chuck (Zachary Levi) and company struggle to establish themselves as Carmichael Industries in the face of a rival security firm led by the tough and efficient Gertrude Verbanski (guest star Carrie-Anne Moss). Meanwhile, Morgan (Joshua Gomez) continues to adjust to the Intersect while Chuck adjusts to being his handler. Also, the Buy More finds an unlikely spokesperson to help drum up business.
From NBC
10/21/11:
With Chuck owning the Buy More, Awesome will "become the face of the company" Ryan McPartlin says, "[Awesome's] going to be like the Tony Robbins of the Buy More. The fact that Ellie and Awesome know about the spy world, it'll be like the A-Team and we'll help out, but only when we're absolutely needed because of the baby." According to Chris Fedek, Chuck won't just treat the Buy More as a front, but be concerned with it being profitable. As such, he uses Awesome in a new promotional campaign. We'll also "see the original Buy More commercial that Big Mike starred in back in 1981."
From TV Guide's MegaBuzz
11/11/11:
Promotional stills from the episode: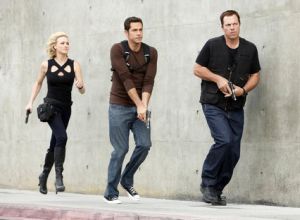 So where are they off to in broad daylight along a street?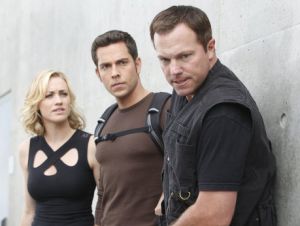 Looks like we're about to find out.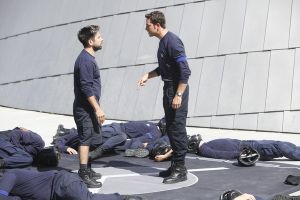 Chuck seems to be calling Morgan out...
Perhaps pointing out that he went overboard in his training session (note the sparring helmets).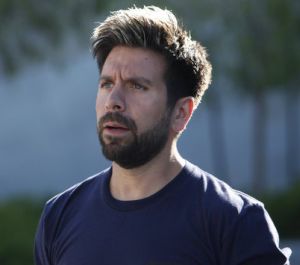 The Frosted Tips.


---
10/21/11:
WHEN LIFE AS THE INTERSECT INFLATES MORGAN'S EGO, CHUCK IS TESTED AS BOTH HIS HANDLER AND HIS FRIEND-CARRIE-ANNE MOSS GUEST STARS-As the team is tasked with finding one of the CIAs most wanted, Chuck (Zachary Levi) fears that the Intersect may be going to Morgan's (Joshua Gomez) head. Meanwhile Sarah (Yvonne Strahovski) helps Casey (Adam Baldwin) navigate his relationship with Gertrude (guest star Carrie-Anne Moss). Elsewhere, Captain Awesome (Ryan McPartlin) makes a startling revelation about Jeff (Scott Krinsky) and Lester (Vik Sahay).
From NBC
10/21/11:
Added Episode Title.
From SpoilerTV
Related Items Available at eBay - Scroll for additional items