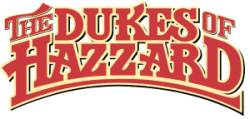 The Dukes of Hazzard
follows the adventures of the Duke boys, cousins Bo Duke (John Schneider) and Luke Duke (Tom Wopat), and their curvaceous cousin Daisy Duke (Catherine Bach), as they cavort around the small town of Hazzard County in the hills of Georgia. The Dukes' Uncle Jesse (Denver Pyle), formerly the best moonshine runner in Hazzard County, makes a deal with the government to stop the family trade in exchange for keeping his kinfolk out of jail.
Nevertheless, the Dukes have a knack for getting into trouble, which usually involves run-ins with the crooked county boss, Boss Hogg (Sorrell Booke) and the town sheriff, Sheriff Rosco P. Coltrane (James Best). With crazy car chases and wrecks, blundering sheriffs and money-hungry politicians, Hazzard County quickly became the wildest and wackiest destination on television.
The Dukes of Hazzard
debuted in January of 1979 and was an instant success. A staple of CBS's Friday night lineup, the show was a Top 20 CBS series for six of its seven seasons on air.
Dukes
held the #1 spot in its time period across those six seasons, making it one of the most popular television series of all time. The last episode aired in 1985, but
The Dukes of Hazzard
fan support is still strong, with hundreds of websites and products devoted to the legendary series. The show subsequently aired in syndication, most recently on ABC Family and Country Music Television.
Click below for more information on Dukes of Hazzard:
- Cast List
- Characters
- Season 1 Episode Summaries
- Season 2 Episode Summaries
- Season 3 Episode Summaries
- Season 4 Episode Summaries
- Season 5 Episode Summaries
- Season 6 Episode Summaries
- Season 7 Episode Summaries
- TV Movies: Reunion! & Hazzard in Hollywood
- DVD Details
- Photo Gallery

---
- Theatrical Remake - Cast, DVD Clips, DVD Details and Short Review