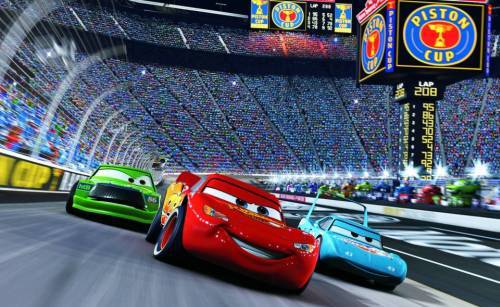 Characters:
Lightning McQueen (voiced by Owen Wilson):
Self-absorbed rookie sensation vying for the Piston Cup, whose detour to Radiator Springs gives him a new perspective.
Doc Hudson (voiced by Paul Newman):
Three-time Piston Cup winner who crashed and then disappeared from the scene. He's now the judge in Radiator Springs.
Sally Carrera (voiced by Bonnie Hunt):
A big-city lawyer, who decided that she didn't like the hustle and bustle of the city and moved to small-town Radiator Springs where runs the motel and tries to bring just a little of that bustle back to Radiator Springs.
Mater (voiced by Larry the Cable Guy):
A beaten-up, but fun-loving, tow truck, who decides that Lightning McQueen will be his best friend.
Ramone (voiced by Cheech Marin):
A low-rider that does custom detailing in Radiator Springs
Luigi (voiced by Tony Shalhoub) and Guido (voiced by Guido Quaroni):
Owner and his mechanic of a tire shop. Great admirers of Forumla One racing and Ferrari in particular.
Flo (voiced by Jenifer Lewis):
Runs the drive-in burger stand in Radiator Springs
Sarge (voiced by Paul Dooley):
Jeep who has a military surplus store in Radiator Springs
Fillmore (voiced by George Carlin):
Hippie who lives next to Sarge in Radiator Springs
Sheriff (voiced by Michael Wallis):
He's the one that chases a lost Lightning into town and makes sure he doesn't leave without facing the consequences for his recklessness.
Mack (voiced by John Ratzenberger):
Lightning McQueen's driver whose attempt to drive across the country all in one night leads to Lightning getting lost.
Chick Hicks (voiced by Michael Keaton):
Arrogant Piston Cup competitor of Lightning McQueen.
The King (voiced by Richard Petty):
Legend and reigning Piston Cup champion
Harv (voiced by Jeremy Piven):
Lightning McQueen's fast-talking agent
Bob Cutlass (voiced by Bob Costas) & Darrell Cartrip (voiced by Darrell Waltrip):
Piston Cup race announcers
Dusty & Rusty Rust-eze (voiced by Tom and Ray Magliozzi):
Lightning McQueen's race sponsors
2-Disc Special Edition Details:
— Mater and the Ghostlight - All-New Animated Short [7:06]
— One Man Band - 2005 Oscar Nominated Animated Short [4:30]
— Epilogue - Featurette full of humorous end credit vignettes [4:17]
— Inspiration for Cars - Creator John Lasseter's first-hand account of the film's development [16:00]
— Believe - Music Video performance by Josh Groban at The Greek Theatre
— Deleted Scene: Top Down Truck Stop [3:49]
— Deleted Scene: Lost [1:42]
— Deleted Scene: Community Service [3:13]
— Deleted Scene: Motorama Girls [1:41]
— DVD-ROM Weblink
Buy the Cars DVD Now!
Animated Films Items Available at eBay - Scroll for additional items
Copyright © 1999-2018; Scott Cummings, All Rights Reserved.
Privacy Statement
.