Surveys by Year: 1778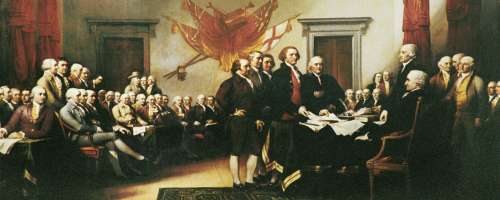 While quartered at Valley Forge, Pennsylvania, on February 23, 1778,
General George Washington
welcomed Maj. General Baron Frederick von Steuben. Though the army had few supplies and many were ill-equipped, thanks to von Steuben's drilling, Washington's army emerged from Valley Forge on June 20, 1778, trained to behave like a regular army. Washington made von Steuben Inspector General of the Army.
On May 25, 1778, while still quartered in Philadelphia,
Maj. General William Howe
resigned, turning command of the British Army in America over to
Lt. General Henry Clinton
. On June 17, France declared war on Britain, mostly because of the victory at the
Battle of Saratoga
. On June 18, Clinton evacuated Philadelphia in favor of returning to New York. On June 28, General Washington caught up with Clinton at the Battle of Monmouth Courthouse, New Jersey. Washington had the British retreating when
Maj. General Charles Lee
disobeyed and ordered his own men to withdraw, allowing the British to rally for a draw.
On July 5, 1778, General Clinton arrived in New York, where he remained for the rest of the year. Meanwhile, the Continentals were occupied with the courtmartials of Major Generals Charles Lee over his actions at Monmouth Courthouse and Philip Schuyler over the loss of Fort Ticonderoga. Lee was found guilty of inappropriate behavior, while Schuyler was acquitted. Lee never held command again, while Schuyler later resigned his commission.
Fighting wound down in the North as winter neared. In November, General Washington entered winter quarters. Meanwhile, the British once again turned their attention South. Naval forces sailed from the West Indies to attack Southern ports. This was the first sign that most of the major action for the remainder of the war would be down South. On December 29, 1778, Maj. General Robert Howe lost Savannah, Georgia to the British.
Related Items Available at eBay - Scroll for additional items