Surveys by Year: 1776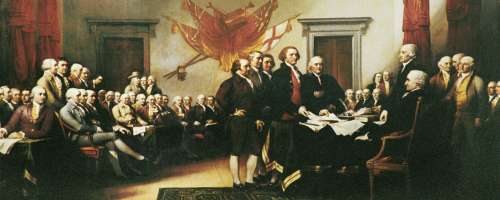 On March 17, 1776, the British
evacuated Boston
. Meanwhile, in the Spring of 1776, the Americans resumed their campaign against Canada with limited success against Maj. General Guy Carleton. However, in mid-June they were forced to retreat back to New York and ended up abandoning the Canadian theatre for the remainder of the war when
Maj. General John Burgoyne
arrived with reinforcements.
The British now shifted their attention south in hopes of gaining the support of the reported large numbers of Loyalists in the lower colonies, as well as isolating New England, which was considered the heart of the rebellion. On June 24,
Maj. General Henry Clinton
and Commodore Peter Parker were defeated by
Colonel William Moultrie
at the
First Battle of Charleston
, South Carolina. On July 4, 1776, the
Declaration of Independence
was adopted by the
Continental Congress
. It was officially signed on August 2. On August 22,
Maj. General William Howe
landed on Long Island with 30,000 British troops. On August 27, at the Battle of Long Island, Howe began chasing
General George Washington
out of New York City, which continued with the Battle of Harlem Heights. On September 15, Clinton
occupied New York
General Howe leisurely chased General Washington out of New York and across New Jersey during the last half of the 1776. Meanwhile, General Burgoyne moved south out of Canada in an effort to secure Lake Champlain. He and Colonel Benedict Arnold maneuvered during the Fall of 1776, with Arnold having to continue to retreat, but he held out long enough until Burgoyne had to return north to quarter for the winter.
As December arrived, General Howe was content to return to New York and settle in for the winter. But General Washington knew he had to have a victory to improve morale going into winter quarters, so he continued to maneuver in New Jersey. On December 13,
Maj. General Charles Lee
was captured by the British at Basking Ridge, New Jersey. On Christmas Day 1776, Washington crossed the Delaware River and in the early morning hours of December 26, he surprised a force of Hessian mercenaries fighting for the British. They were recovering from Christmas parties and the resulting rout became known as the
Battle of Trenton
, New Jersey.
Related Items Available at eBay - Scroll for additional items