Southern Campaign of 1780-1781: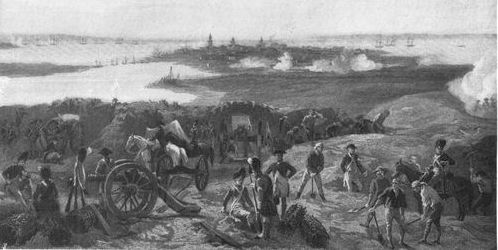 Southern Campaign: Part I
Lt. Colonel Banastre Tarleton
helped seal Charleston's fate by defeating Colonel Isaac Huger at the
Battle of Monck's Corner
on April 14, 1780.
Charleston
held out almost a month more, but finally was surrendered by
Maj. General Benjamin Lincoln
to
Lt. General Henry Clinton
on May 12, 1780. General Clinton ordered
Lt. General Charles Earl Cornwallis
into the back country to secure outposts and put down any possible remaining resistance. On June 4, 1780, General Clinton sailed back north to New York to deal with
General George Washington
, leaving General Cornwallis in command of the Southern Theatre. His only orders to Cornwallis was that he maintain control of the ports of Charleston and Savannah, Georgia. Cornwallis had little resistance at first since now the closest organized Continental force was camped in North Carolina awaiting a replacement commander for Maj. General Lincoln.
General Cornwallis felt that the best way to do this was to move northward, sweeping through the countryside of South Carolina into North Carolina and finally meeting General Clinton in Virginia. It was hoped that this strategy would draw Tories/Loyalists to the British banner as garrisons and supply lines were established. Cornwallis planned to use
Major Patrick Ferguson's
Tory corps to protect his left flank by sending Ferguson into the westernmost regions and Lt. Colonel Tarleton's Green Dragoon cavalry to scout ahead and act as a mobile extension of the main army.
One of the first engagements of this campaign took place on May 29, 1780, at the
Battle of Waxhaws
, when Lt. Colonel Tarleton caught up with a retreating force of Continental regulars under Colonel Abraham Buford at Waxhaws. The controversial battle became known as Buford's Massacre and established Tarleton's reputation as giving no quarter. Cornwallis also attempted to protect and support Tories in the backcountry by establishing a series of garrisons. However, during the summer of 1780, Tories were involved in vicious skirmishing with bands of Patriot militia, especially an organized force under
Thomas Sumter
.
General Cornwallis was successful with his strategy as he moved through South Carolina. In July,
Maj. General Horatio Gates
arrived as the new
Southern Commander
and moved to take the crossroads location of Camden. On August 16, 1780, Cornwallis soundly defeated Gates at the
Battle of Camden
, South Carolina, when two-almost all the militia, who made up nearly two-thirds of his force, fled without firing a shot. The following day, Lt. Colonel Tarleton surprised Thomas Sumter and his militia, who had been raiding British supply lines, at Fishing Creek on the Wateree River. Sumter escaped, but his militia was scattered. These successive victories left no organized resistance in South Carolina. General Cornwallis next moved into North Carolina, leaving Tories in charge of his newly established garrisons in South Carolina. On September 26, 1780, Charlotte, North Carolina was occupied by Cornwallis.
However, the backcountry was proving harder to tame than expected. Even though Thomas Sumter was still reorganizing his militia,
Francis Marion
and others were proving to be very troublesome in the backcountry. As a result, on September 2, General Cornwallis had sent Major Ferguson out to recruit more Tories and give a strong British presence in the western regions of the Carolinas. He and his Tory force skirmished with militia colonels
Elijah Clarke
and
Isaac Shelby
. Ferguson made the mistake of sending threats into the mountain country, where the men had been content to mostly sit out the war.
Related Items Available at eBay - Scroll for additional items