Southern Campaign of 1780-1781: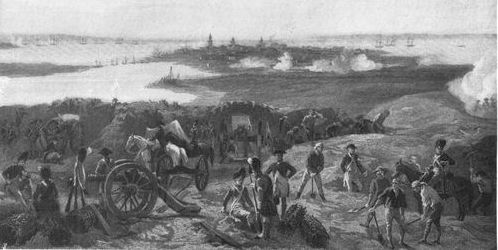 Southern Campaign: Part II
The result of
Major Patrick Ferguson's
tactics was that on October 7, 1780, several bands of Overmountain Men and militia defeated Ferguson's Tory force at the
Battle of King's Mountain
, South Carolina. This loss forced General Cornwallis to retreat back to Winnsboro, South Carolina. It also demoralized the Tories. They did little to support the British efforts in the South from this time on.
On October 5, 1780, Congress had given
General George Washington
full authorization to choose the
Southern Department Commander
on October 5th. Washington had recommended
Maj. General Nathanael Greene
for the post back in May as
Maj. General Benjamin Lincoln's
replacement following the surrender of
Charleston
, South Carolina. However, Congress had overruled Washington's selection and Gates had been selected at the time. Washington received Congress' resolution on October 13th and again chose Greene for the post on the very next day on October 14th. On October 22nd, Greene accepted his orders from Washington and set out from camp with his designated second-in-command, Baron von Steuben. They travelled to Philadelphia and presented Washington's letters to
Continental Congress
. On October 31, 1780, both appointments were approved by Congress.
On December 2, 1780, Greene officially took command of a bedraggled Southern Continental army from Maj. General Horatio Gates in Charlotte, North Carolina. He was joined by
Brig. General Daniel Morgan
, who had recently put aside personal issues to return to field. General Greene found the army, underequipped, demoralized and lacking discipline. To buy time to rebuild and outfit his army, he split it, giving command of the smaller, more mobile portion to Morgan. Morgan left Charlotte on December 21, 1780. General Cornwallis recognized the strategy and sent
Lt. Colonel Banastre Tarleton
after Morgan to either destroy his force or drive Morgan back to him.
After nearly a month of maneuvering, General Morgan stood and fought Lt. Colonel Tarleton at the
Battle of Cowpens
, South Carolina on January 17, 1781. With the help of
Andrew Pickens
, Morgan used British expectations of militia cowardice from the
Battle of Camden
and Tarleton's tendancies of aggressive charges to draw him in and double-flank his force. The loss was Britain's largest in the way of captured men and lost munitions. The Race to the Dan River followed as
Lt. General Charles Cornwallis
pursued General Greene north across South and North Carolina. Cornwallis was again thwarted even after burning his baggage train to hasten his march, because Greene had boats ready to carry his army across the swollen Dan River. During the retreat, General Morgan had to retire to his home in Virginia, when painful sciatia made it impossible for him to ride a horse.
General Cornwallis retreated back south to rebuild his supplies, made winter camp at Hillsborough, North Carolina and awaited Greene's return. General Greene finally crossed the Dan back into North Carolina on March 1, 1781. After two weeks of manuevering, Greene met General Cornwallis at the
Battle of Guilford Courthouse
, North Carolina on March 15, 1781. Cornwallis held the field, but he had sustained heavier casualties than Greene and was unable to pursue Greene. Cornwallis now changed his strategy. He had been unable to tame the militia bands led by Andrew Pickens,
Francis Marion
and
Thomas Sumter
, so he decided to abandon the Carolinas and move north into Virginia, since it was the middle of the colonies. His new strategy hinged on he and
Lt. General Henry Clinton
trapping General Washington in the middle colonies.
After receiving orders from General Clinton, General Cornwallis established a fort at Yorktown, Virginia. Then in September of 1781, the French navy finally arrived and after twice skirmishing with the British navy, occupied Chesapeake Bay, which allowed General Washington to besiege Cornwallis, starting the
Battle of Yorktown
, Virginia on October 9, 1781. On October 17, 1781, General Cornwallis surrendered, but claiming illness, sent his second-in-command,
Brig. General Charles O'Hara
to the official ceremony. O'Hara attempted to surrender to the French, but was directed to General Washington, who then directed him to his second-in-command,
Maj. General Benjamin Lincoln
. This ended the last major engagement of the Revolutionary War.
Related Items Available at eBay - Scroll for additional items