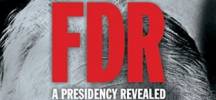 FDR - A Presidency Revealed @ The History Channel
Four-hour presentation offers a fresh perspective
on the public and private Franklin Delano Roosevelt
Narrated by Edward Herrmann


Highlights of
FDR: A PRESIDENCY REVEALED (PART TWO)
include:
A first-hand account from cousin, confidante, and caregiver Daisy Suckley of FDR's death in Warm Springs, Georgia, just months into his fourth term.
FDR's struggle to convince the isolationist Congress of the growing threat posed by Adolf Hitler
The devastating losses of both his mother and his beloved personal assistant, Missy LeHand; declining health and the growing threat of war; and Curtis Roosevelt's disclosure of the loneliness FDR felt during his latter terms
Eleanor's audio comments on his strangely detached demeanor in the wake of the Pearl Harbor attack
An inside look at FDR's bond with Churchill, forged on mutual respect and a desire to keep the free world strong
Footage from his secret escapes to Hyde Park during the war, in which he would relax with friends and mix martinis with a dash of absinthe, said by many to be the worst they'd ever tasted
Stunning details of FDR's ability to perform his job in the face of gravely deteriorating health, including an advanced state of congestive heart failure during his third term
Related Items Available at eBay - Scroll for additional items
Copyright © 1999-2019; Scott Cummings, All Rights Reserved.
Privacy Statement
.
Available at Amazon.com


The History Channel DVD:
FDR - A Presidency Revealed
---
---