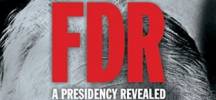 FDR - A Presidency Revealed @ The History Channel
Four-hour presentation offers a fresh perspective
on the public and private Franklin Delano Roosevelt
Narrated by Edward Herrmann


Highlights of
FDR: A PRESIDENCY REVEALED (PART ONE)
include:
Previously unseen home movies from his beloved estate in Hyde Park , New York , showing the private side that FDR so fiercely protected, and the early memories of his grandson Curtis: "He loved to play games, loved to be silly."
Historians' views on FDR's New Deal and his first hundred days in office, the most prolific and innovative legislative period in the nation's history
Commentary about his commitment to civil rights, including disapproval from his own wife and interviews with modern-day dissenters
Excerpts from and background on FDR's famous Fireside Chats, by which he developed a bond with the American people that would strengthen over time
Detailed oral history accounts from Eleanor Roosevelt on the day FDR contracted polio and became paralyzed while visiting his summer home on Campobello Island in New Brunswick , a source of insecurity and pain the rest of his life, and touching first-hand accounts of his fruitless struggle to walk again
A balanced look at FDR's failures, including a disastrous attempt to reconfigure the Supreme Court
Details of FDR's flawed relationship with Eleanor, including an affair he had in his thirties with Lucy Page Mercer that nearly resulted in divorce
An inside look at the most overlooked event in FDR's entire presidency, when Arthur Kent, an American working at the U.S. Embassy in England, was found to have intercepted months' worth of secret correspondence between FDR and Winston Churchill, with the intention of providing the information to political enemies in an attempt to expose FDR as a liar for promising American neutrality in the fight against Germany
Copyright © 1999-2014; Scott Cummings, All Rights Reserved.
Privacy Statement
.
Available at A&E.com


The History Channel DVD:
FDR - A Presidency Revealed
---
Available at Amazon.com


The History Channel DVD:
FDR - A Presidency Revealed
---