West Florida Campaign of 1779-1781: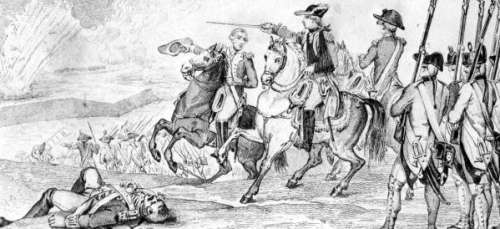 Part II
Following the capture of Baton Rouge, Bernardo de Gálvez offered a Spanish commission of colonel to Oliver Pollock, but Pollock turned him down and focused his efforts on keeping the Mississippi River free. Pollock, however, continued his correspondence with Gálvez, supplying him with whatever information he gained concerning Mobile and Pensacola. Gálvez had already been gathering information and planning attacks on each for some time and now he was free to follow through with those plans.
On January 11, 1780, Gálvez sailed from New Orleans for Mobile after finally securing the promise of receiving the necessary reinforcements from Havana. The weather was not very cooperative and delayed the journey. He reached Mobile Bay on February 8, but rough weather delayed entry into the bay. Finally, on the February 13, all but one ship had entered the bay, but they were all damaged and many supplies had been lost.
Just as Gálvez was considering returning to New Orleans to regroup, news of reinforcements being on the way arrived on February 17. On February 20, the reinforcements arrived and Gálvez secured the entrance to the bay. On March 1, Gálvez began correspondence with Captain Elias Durnford, the British commander of Fort Charlotte. The correspondence was cordial and even included an exchange of "gifts."
On March 10, Gálvez began bombarding the fort, officially starting the siege. Durnford had already leveled the entire town of Mobile to eliminate cover for the opposing force, when it attacked the fort. However, relief forces sent by Maj. General John Campbell at Fort George in Pensacola bogged down in the swamp and never reached Mobile, so Durnford was forced to capitulate on March 13.
With the capture of Mobile nothing stood in the way of what had been Gálvez' goal all along:
Pensacola
. He immediately turned to making preparations for a siege. He knew exactly what forces were located at Pensacola and believed the force he now had would suffice, but he was forced to delay his plans when he learned that British reinforcements were arriving from Jamaica. He spent the next few months in Mobile in correspondence with Havana attempting to secure reinforcements for his attack on Pensacola.
DeGálvez was disappointed to learn that scout fleets had been sent out from Havana to Pensacola and had easily been rebuffed, discouraging the Spanish naval officers at Havana. Gálvez finally decided to go to Havana to personally urge for an expedition against Pensacola, arriving on August 2. Plans were soon made ready for an expedition. After being slowed by weather, the expedition set sail on October 16, 1780, but was struck by a hurricane only two days later. Ships were damaged and the fleet scattered.
After failing to reform the fleet, Gálvez returned to Havana on November 17. After word arrived of an unsuccessful attempt by the British to retake Mobile, Gálvez pleaded that Mobile and New Orleans needed strengthening or Pensacola had to be taken to eliminate the threat. He was soon provided with 1300 men and several ships. On February 14, he embarked, but due to contrary winds, the fleet did not sail until February 28, 1781.
Related Items Available at eBay - Scroll for additional items