The Patriot: Books
The Patriot: The Official Companion
by Suzanne Fritz and Rachel Aberly
This book offers behind the scenes photos and interviews from the set about the making of the film. It is full of full-page, beautiful photographs, with some basic information about the movie, the cast, the crew, the story and the characters interspersed. It's about 100 pages long and of coffee table-size dimensions (12" X 10").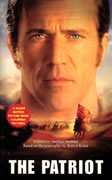 The Patriot: A Novel
by Stephen Molstad
This novelization offers more details and background on some of the characters, some of which is most likely based on material that was edited out of the movie for time.
Copyright © 1999-2014; Scott Cummings, All Rights Reserved.
Privacy Statement
.